Come down to Alcona and watch Innisfil's Santa Claus parade! Sunday November 24, 2019 @ 1:30 pm from the 25th Sideroad and ending at Jans Blvd, the parade showcases all the great local businesses and schools.
It's fun for all ages some come out and enjoy the parade and a chance to see Santa. Don't forget your letters to Santa and accepting donations of non-perishable food items!
All Float Entries Must Be In By November 22nd
NO EXCEPTIONS
November 24th, 2019
Alcona
1:30 pm - Innisfil Beach Rd. & 25th Sideroad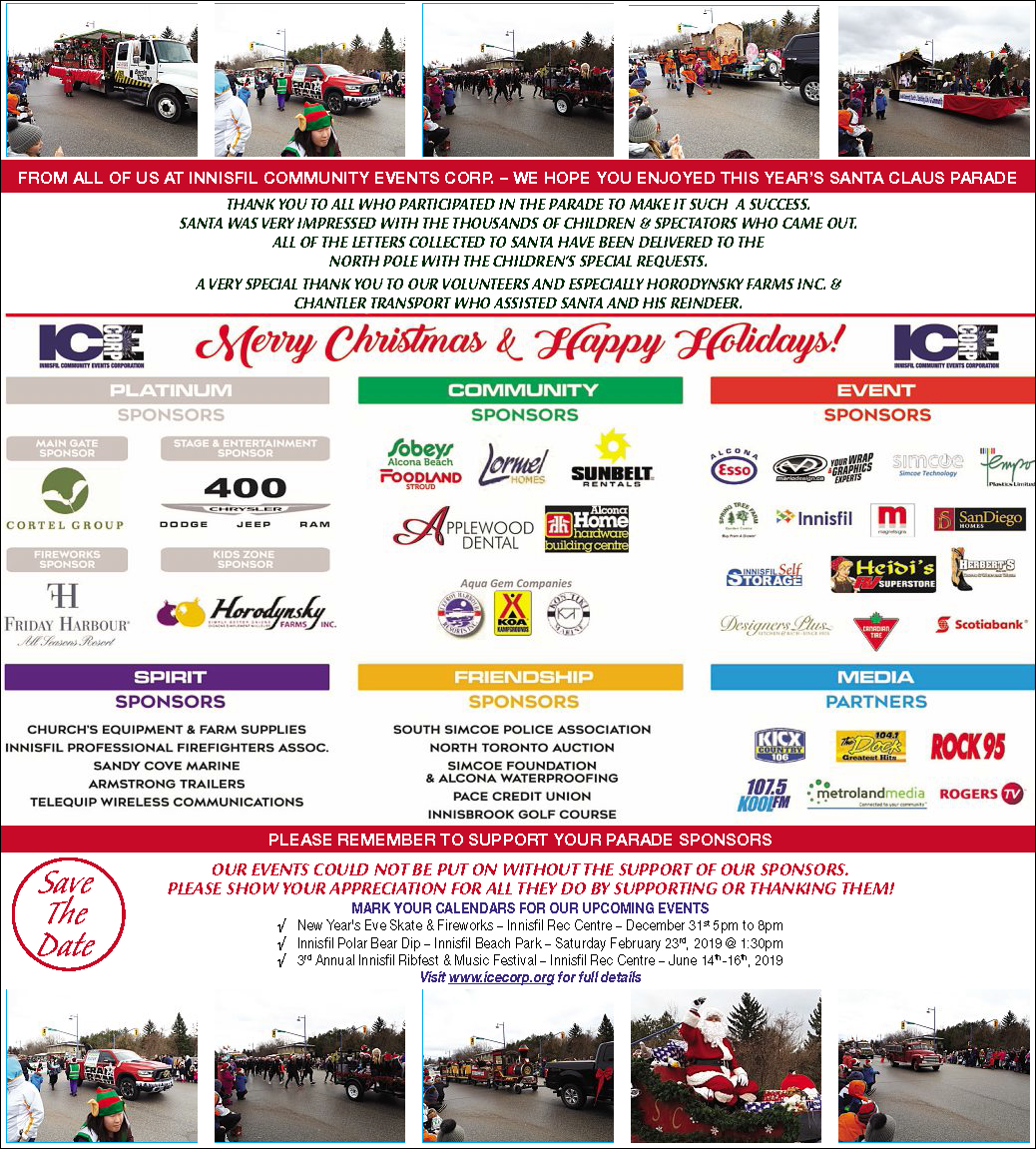 Once again we are providing a special sensory "QUIET ZONE" as the parade leaves Innisfil Beach Park, up to and including the fire hall (1 block). EVERYONE PLEASE refrain from playing any music, unless very quiet, sounding any sirens, bells, noisemakers, or megaphones until you reach the 25th Sideroad. At that time resume normal activity. It's time we provided an all-inclusive & barrier free / sensory zone, everyone wants to be a part of the Christmas parade.
YOU ARE RESPONSIBLE FOR THE SAFETY AND LIABILITY OF YOUR FLOAT AND YOUR PARTICIPANTS. ALL FLOATS AND TOWING VEHICLES MUST CARRY VALID INSURANCE.
ALL FLOATS, TRUCKS, TRAILERS, etc MUST be in the park in their respective parking lots between 10 and 11 am. This is mandatory! Your float will be assigned a Rogers TV number upon checking into the lot.
ALL FLOATS MUST HAVE A MINIMUM OF FOUR WALKERS (SPOTTERS). WE RECOMMEND THAT YOUR SPOTTERS WEAR HIGH VISIBILITY VESTS.
FOR SAFETY REASONS, NOTHING MAY BE THROWN FROM THE FLOATS OR VEHICLES. ONLY WALKERS MAY  HAND OUT CANDY OR ITEMS TO THE SPECTATORS. LOOSE CANDY ON THE ROAD TEMPS CHILDREN TO RUN IN FRONT OF FLOATS.   
ALL PARADE PARTICIPANTS MUST be in the park in their respective parking lots and floats between 11 am and 12 noon. This is also mandatory.
PLEASE!!! Encourage all of your groups and participants, especially the DANCE GROUPS, to CARPOOL!!!
There is A DROP OFF PARKING LOT, just inside the park gate, on the left. PLEASE drop off your passengers and leave. If you are parking and participating, then proceed to your respective parking lot for your float, and park there.
All parade floats and bands will begin to line up at 12:30 under the direction of the Parade Marshall. Late arrivals will be accommodated at the discretion of the Parade Marshall.
1:30 p.m. is start time!
Parade begins at 1:30 from 25th Sideroad & Innisfil Beach Road and proceeds west on Innisfil Beach Road to Jans Blvd. to disburse from there.
All floats/vehicles MUST be decorated.  The theme is always about "Kids and Christmas".  Your Rogers TV entry number must be clearly visible in the windshield of your vehicle or held by the walkers.
Inappropriate language or behaviour will not be tolerated.  
Portable washrooms will be available at Innisfil Beach Park.
Parades take a long time, we recommend that your participants wear warm clothes, and bring  food and beverages for the children.
Donations of non-perishable food will be collected along the parade route and donated to Innisfil Community Food Bank. Unwrapped toys will be collected by Innisfil Fire Department.
Parking will be provided from 12 to 4pm at Innisfil Beach Park, please arrange transportation to your vehicles.
THERE IS ONLY ONE SANTA CLAUS AND HE COMES AT THE END OF THE PARADE HOSTED BY ICE CORP.
IT IS THE RESPONSIBILITY OF THE PERSON IN CHARGE OF YOUR FLOAT TO INFORM ALL PARTICIPANTS OF ALL THE RULES AND RESPONSIBILITIES.
REGISTERATION FEE:  Business entry fee – $35.00. Non-profit organizations – FREE.
REGISTRATION DEADLINE
ALL ENTRIES MUST COMPLETE AND SUBMIT AN APPLICATION FORM AND FEES (IF APPLICABLE) MUST BE RECEIVED BY THE WEDNESDAY PRIOR TO THE PARADE DATE. NO APPLICATIONS WILL BE RECEIVED AFTER THIS DATE!
REGISTER ONLINE! PAY ONLINE! IT'S QUICK, IT'S EASY!
Come out and help us give Innisfil's kids a parade to remember !!!
Please contact Christy Fines cfines@400chrysler.com at 400 Chrysler if you wish to use a vehicle to pull your float in the parade.
Santa Claus Parade Application Form
Deadline for your application is the Wednesday prior to the parade date.
Payment Via Credit Card Will Be Prompted Once Form Is Filled Out